Why do Indians love Pakistani cricketers?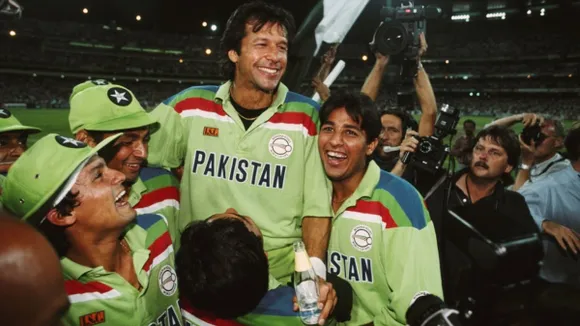 1992 World Cup winners Pakistan (File photo)
Kolkata: The chief culprit, most certainly, is Imran Khan, currently nursing the venom of a political foe, or possibly a friend. Along with a few other enterprising accomplices, he did ensure that the Rasputin effect of Pakistani cricketers arrested the imagination of edgy neighbours.
Also to blame would be the late Parameshwar Godrej and her selection of the sensational Imran as the brand ambassador for the innovative Cinthol. In the late 1970s, he was nothing short of Amitabh Bachchan in matinee appeal, the reverse swing arguably just a top-up. To add he was Oxbridge alumni, a seductive intellectual sheen last seen in India via Pataudi and Abbas Ali Baig.
But this combination of upper-class acumen and astounding ability was not quite unique to Imran and was a rather common Pakistani trait. His cousins, Javed Burki and Majid Khan were of comparable antecedents, combining degree, pedigree and stroke play with effortless ease. Mohsin Khan, the other half of Rina Roy, seemed to partially replicate this trio, and his manners, on and off the field, were rather artistic.
But there were two other hard-nosed dimensions, quite apart from the unconnected glories, that made Pakistan cricket remarkably respect-worthy. The invitation to Kerry Packer's World Series Cricket was also extended to a few Indians, Sunny Gavaskar notably, but clearly populated by the leading Pakistanis. Imran and his ilk did perform splendidly for the World XI and they logically seemed more future-ready than us.
A notion that was ably confirmed by the less controversial county cricket gameplay, where the Pakistanis were coopted as if mere routine, unlike the odd Indian representation of spinners mostly,  'Rentawagon' (the phonetic interpretation of Venkatraghavan) in Derbyshire amongst others. For youngsters reading this piece, the County circuit was nothing short of the IPL in that retrospective context, a global ensemble of the finest talent converging in England. When Pakistan was set a stiff mandatory overs target during a test match in the 1978-79 India series, Imran recounted that the Old Blighty experience made the chase so effortlessly accessible.
Apart from glamour and skills, the Pakistan players scored highly on quirk quotient, unlike the Amol Palekar like middle-class personas of Indian stars. Zaheer Abbas was reputed to never possess a defensive stroke, as per Sunny Gavaskar, while his appetite for double hundreds was clearly Bradmanesque. Asif Iqbal was diminutive to a fault, but his running between the wickets would impress Virat Kohli surely.
Sikander Bakht, seven wickets in Delhi, could qualify as an Ajit (villain) stooge while the eclectic Sarfraz Nawaz was capable of both evolution and revolution. I already mentioned the svelte Mohsin, while Salim Malik in his day could sinlessly slay a saint. Those who were present in Eden Gardens in 1987 will remember one such encounter when an unambiguous Indian victory was thwarted by an elegant carnage.
As the years progressed, the characters too seemed to grow in numbers, as well as impact. Abdul Qadir was arguably no Bishen Bedi but his action, as well as actions, was truly influential, even as a pinch hitter in the iconic Sharjah final. Soon, it was time for Akram and Waqar, and while the former was more iconic, the latter was no less venomous than Carlos the Jackal as a final over assassin.
Like many Indians of my time, I did root for Pakistan in the 1992 ODI World Cup, after we got eliminated. It was not just about the proximity of ethnicity but equally about affection for the character, which the squad always has in abundance. To middle-class Indians in the '70s and '80s, it was quite like a forbidden fruit, logically foreign but intuitively aspirational. For the exceptional ability to imbibe technicolour cinemascope values to what could well be a clinical pursuit, as much of first-class cricket in India certainly was then.
Lots have changed over the years and the distance between the two nations has deepened systematically, economically and politically. But that can never take away the romance that Pakistani cricketers brought to our humdrum Doordarshan lives, indeed the proverbial icing of fantasy on a vanilla cake.