BJP 'hat-tricked' Goa gets a Hindutva Reality Check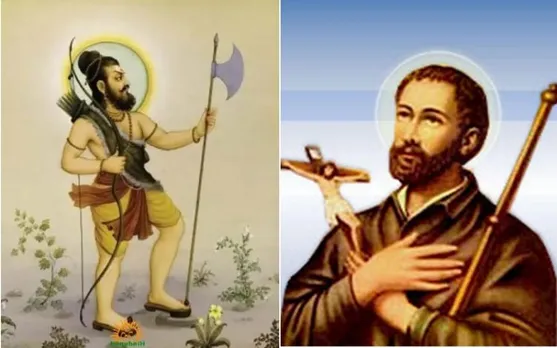 Panaji (Goa): Exactly 30 days since BJP was sworn into power for a record third time, the sceptre of Hindutva has arrived and how. On April 28, Subhash Bhaskar Velingkar the former Chief of Rashtriya Suraksha Manch (RSS) under whose leadership the organisation rose to have over one lakh members in Goa (every fifteenth Goan is an RSS member!) took on Goa's patron Saint Francis Xavier reverently called Goencho Saib by Goans. Velingkar said that St Francis Xavier (SFX) cannot be called 'Goencho Saib' and that a campaign 'The Goa Files' will be launched on May 3, to make Bhagwan Parshuram 'Goencho Saib.' The Kashmir Files style popular interpretation of history may have polarised the masses across India but is the Goa Files (Goa allegedly is a Portuguese coined word) interpretation of local history - the shape of things to come?
Lords of Goa: St Francis Xavier or Parashuram?
Velingkar, the man who famously tried to split RSS in Goa launching RSS Goa Prant argues that St Francis Xavier cannot be called 'Goencho Saib' from the nationalist point of view and on humanitarian grounds and that the moniker Goencho Saib was the creation of the colonial Portuguese. While Goa's Portuguese history dates back just 512 years ago, Velingkar's claim of calling the mythical Lord Parashuram Goencho Saib is a first. St Francis was never conferred upon the title of Goencho Saib or Lord of Goa. It was the retreat of Sambhaji in 1683 from capturing the Portuguese Goan capital of Old Goa that led to the Portuguese and locals attributing the 'miracle' to St Francis Xavier and hence calling him Lord of Goa or Goencho Saib. 
Subhash Velingkar's campaign to shift the status of Lord of Goa from a Christian Saint who lived in the 16th Century to a mythical Hindu God will be a first of its kind for Goa. What is baffling though is the sudden spurt of new 'religious concerns' in Goa ranging from conversions to rebuilding temples destroyed hundreds of years ago to now even renaming of Lord of Goa – all of this having happened in the first 30 days of BJP's third back-to-back term ruling Goa. 
For Velingkar, considered as Mentor of Late Goa CM Manohar Parrikar, aggressive nationalistic agenda in Goa ranging from forcible implementation of mother tongue (Marathi and Konkani) in primary schools to correcting Goa's colonial past has always been a calling. Having drawn a blank as the founder of a political party, Velingkar went back to parent RSS and cosied up to the ruling BJP over the past decade. BJP's third term gives him the ideological muscle to use this tenure to get Goa back.   
Interestingly, RSS, BJP and its' controversial communal utterances and agenda are not new to Goa. It began right after the party regained power in 2012.
Ghar Wapsi vs SFX Exposition 
Six months after Narendra Modi took over as Prime Minister of India and 30 months since Manohar Parrikar was sworn in as CM Of Goa, Goa held the Exposition of St. Francis Xavier, Goa's Patron Saint. Every 10 years, the mortal remains of St Francis (preserved in a silver casket in the Basilica of Bom Jesus in Old Goa) are taken down for an exposition where it travels in a formal procession from the Basilica of Bom Jesus to the Sé Catedral de Santa Catarina, or just Sé Catedral and kept outside for a month-long exposition to people from all faiths. While all the previous exposition was generally non-controversial, the one in 2014 had a parallel event - an RSS Training Camp held at Ribandar just a few kilometres away from St. Francis Xavier's decennial exposition. It was here that for the first time the chief of the intellectual wing of the Rashtriya Swayamsevak Sangh for the Western Region, Sharad Kunte said that "If they (Goan Christians) want to come back to their ancestral religion then we (RSS) are willing to take them back." The training camp was attended by then Union Defence Minister (Late) Manohar Parrikar, then Chief Minister Laxmikant Parsekar and then Goa Legislative Assembly Speaker Rajendra Arlekar (now Governor of Himachal Pradesh), among others.
Though the Church did not respond then as it was seized with Celebration of the Exposition, the fact that the Ghar Wapsi (Reconversion) Call was just a stone's throw away from the decennial exposition site attracts people of all faith alike and was attended by BJP's state stalwarts did not go unnoticed. And the saga continues to date.
Pramod Sawant 2.0 & a Saga of Rebuilding Temples, Attacking Conversions
A couple of months before Goa went to polls in 2022, Chief Minister Pramod Sawant sought a mandate to preserve Hindu Sanskriti and Mandir Sanskriti. His words "There are more temples that are left to be rebuilt. In the 60th year of liberation, we want to start rebuilding the temples that the Portuguese destroyed". 
A disputed history has it that anywhere between 500 to 1000 Hindu Temples were destroyed during the infamous Inquisition of 1561-1812. Though there exist not many officials chronicled records of the exact number, location, nature, size and importance of these temples, these 'destroyed' temples have always been a sore point of contention between Goa's majority Hindu and minority Christian population. Historians even challenge. While a section of historians believe that all that was destroyed wasn't entirely Hindu temples but also that of many indigenous faiths and beliefs that were at war with each other in Goa (even before the Portuguese came), another section states that the Portuguese like any colonialists adopted or abandoned religion for their own selfish purpose and even in Goa while destroyed temples were allowed to be built elsewhere, Church of non-Catholic orders were demolished and disallowed to reconstruct.     
In present times, however, Goa's CM Sawant has sanctioned Rs 20 crores in the State's Budget to restore the balance of history. While the CM holds the Archives and Archaeology portfolio who are "working on" the location, size and importance of these destroyed temples, the fact remains that a State suffering a Rs 26000+ crore debt would have other better things to do.
But then Sawant was also engaged in a war of words with the Popular Front of India hinting that the 'separatist' organisations should be banned by the Centre for conversions. While the PFI put up a brave face asking the CM to focus on more important issues such as inflation, the fact remains that Sawant who himself holds the Home Ministry has been quiet about cracking down on the infamous Sanatan Sansthan which is being investigated in Karnataka and Maharashtra for fomenting Hindutva terror. His cabinet colleague Sudin Dhavlikar is brazen about his family's link with Sanatan Sansthan.         
For Goa which prided itself on its Uniform Civil Code and Secular Credentials, it will be a long five years. The party they have handed over a stunning hat-trick of victories thinks otherwise despite cornering less than a third of votes.