Sachin Pilot likely to move court against Ashok Gehlot
Congress sources said Pilot has been given the go-ahead by the party leadership, indicating that the ongoing feud between the two leaders was set to escalate. He is likely to move the court tomorrow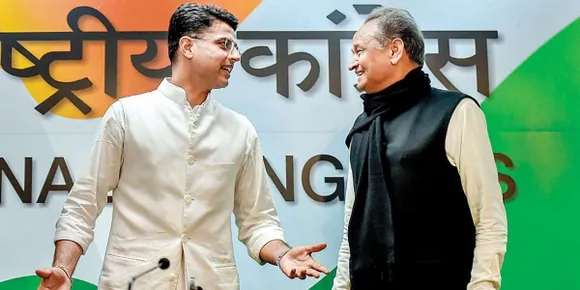 Sachin Pilot and Ashok Gehlot (File photo)
New Delhi: Congress sources said Pilot has been given the go-ahead by the party leadership, indicating that the ongoing feud between the two leaders was set to escalate
Congress leader Sachin Pilot is likely to file a case against Rajasthan chief minister Ashok Gehlot over his traitor remark and allegations that Rs 10 crore each were distributed to the legislators loyal to the former deputy chief minister by the Bharatiya Janata Party (BJP) to bring down his government in July 2020.
Congress sources said Pilot has been given the go-ahead by the party leadership, indicating that the ongoing feud between the two leaders was set to escalate.
"He is likely to move the court tomorrow," said a Congress leader close to Pilot.
In a no-holds-barred interview to NDTV, Gehlot called Pilot a traitor who cannot be made the chief minister.
"The problem is that he was pulling the government down. (Union home minister) Amit Shah was also involved in it. (Union minister) Dharmendra Pradhan was also involved in it. They all had a meeting in Delhi. Some legislators stayed in Manesar for 34 days," he said.
"This is unusual that a party president goes to the opposition to topple his own government," added Gehlot. Pilot was the Rajasthan Congress president and deputy chief minister at that time.
"It must not have happened in the history of the country before that a party president went to the opposition to topple his own government. It must have never happened in history," Gehlot said.
He said the Congress high command cannot make Pilot the chief minister. "There has been some communication gap. How can they make him? A man who doesn't have 10 MLAs, who revolted, who has been called a traitor. He betrayed the party, is a traitor. How can people accept him?"
When told that Pilot had denied that and insisted that he had nothing to do with BJP, Gehlot shot back: "No, no. He can't say that. The whole game was theirs. Rs 10 crore were distributed by the BJP. I have proof."
The chief minister added, "Some got Rs 5 crore, some Rs 10 crore. In fact, the money was picked up from the BJP office in Delhi. Many have picked up the money from there. They have told me themselves."
Reacting to Gehlot's remarks, Pilot dubbed those as "false and unfounded allegations that were completely unnecessary".
"He will do better if he keeps the focus on Gujarat, which is practically some days away from the elections," Pilot said. Gehlot is the Congress observer for Gujarat.
"Ashok Gehlot called me an incompetent, a traitor and made lots of allegations. These allegations are completely false, unfounded and unnecessary," Pilot said.
He said the need of the hour was to strengthen the Congress party. "We have to see how we can make Rahul Gandhi's Bharat Jodo Yatra a success because that's what the country needs," he added.
"Only Congress can challenge the BJP in the country.  Elections are underway in Gujarat, where Ashok Gehlot is in-charge. We must put up a united fight to defeat the BJP," added Pilot.
"We formed the government twice in Rajasthan under the leadership of Ashok Gehlot. But then we lost both elections… Despite that, when the party high command wanted him to head the government, we accepted it. This time our focus should be on winning the coming election," he said.
"Under the circumstances, it does not look well for a leader of his seniority to talk about such issues," added Pilot.