Divided in 1947 two brothers and their families reunite after 75 years
Indian blogger helped in the reunion of separated family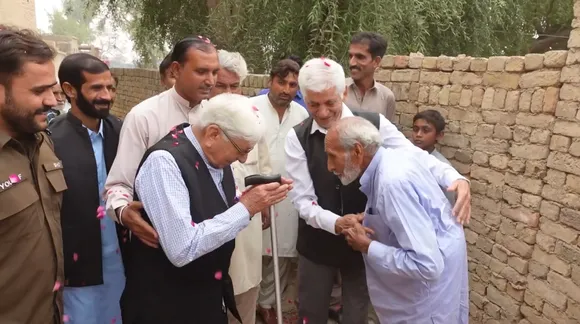 New Delhi: D N Chawla, retired Vice Principal of a school, presently living in Rohini, New Delhi, went to Pakistan to meet and reunite with his lost brother, sister, and extended family after 75 years.
A few years ago, Chawla wrote a letter to the local ancestral village post office and the head of the school in his ancestral village in Pakistan (as he remembered it) and was surprised and shocked to receive a reply giving details of the extended family, who still lived in the same village and house.
A vlog recently went viral on social media under the title "MITHRA BHIRA" (sweet brother). It revealed the case of a family whose one brother and a sister decided to stay at their ancestral village Nuttkali, Tehsil Taunsa in Pakistan.
At the time of Partition, other family members of the Chawla family left their village and got settled in New Delhi as refugees. At the same time, one brother remained in Pakistan and embraced Islam. Chawla's brother rechristened his name as Abdul Majeed, who recently died. The story of reunion has also appeared in the Pakistan media.
Manu Mehta, who runs the blog, helps such families reunite, got information about the Chawla family and played a vital role in connecting the family.
Manu Mehta, along with Krishan Kumar Chawla and his brother Dina Nath Kumar Chawla, went to Pakistan after getting permission from both governments. The two visited their birthplace and met their nephew Sheikh Saifullah, son of the late Abdul Majeed, and their sister and her children.
Nearly the whole village came out amid sounds of local dol and music showering confetti and garlanding the Indian family.
They said that the house was built in 1898 by their grandfather D.K Chawla. They lauded the local officials and the Pakistan administration for facilitating their visit. They said they were impressed by the hospitality of their cousins and expressed gratitude for all those who made it possible.
The reunion brought tears to the family members. Diana Nath and Krishan Kumar brought mud from their house as a memory and kissed the walls as they departed, remembering so many stories and memories of their ancestral home.
The cousin brothers had an emotional reunion with the family members, and they can be seen in the blog touching and feeling the old bricks of their ancestral home with tears and happiness in their eyes.
Chawla while departing from the village said, "finally my last wish of revisiting my home is fulfilled," and was surprised that some old structure like old wooden main gate, wooden ceiling and boundary walls still exist revisiting his childhood and  lost memories.