CIMA exhibition: Celebrating a holistic vision of art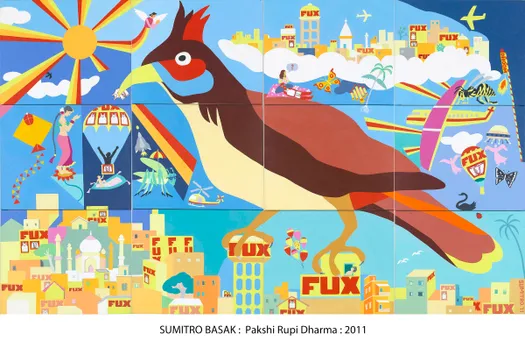 New Delhi: In an endeavour to capture a holistic visual language of Independent India and examine some of the movements pointing to the future, CIMA (Centre of International Modern Art), Kolkata, is organising the group exhibition, Colours of Freedom, on till November 9. It has been curated by Rakhi Sarkar, Director, CIMA. As India completes her 75th anniversary of Independence, the exhibition looks back, reflects and assesses the visual space shaped by 75 years of freedom. Hosted at the Visual Arts Gallery, Habitat Centre, New Delhi, the exhibition explores how we started the journey and where we now stand.
This exhibition is aimed at providing a glimpse of some interesting creative experiments undertaken by visual artists, across genres. Sarkar explains, "Colours of Freedom is not a definitive historical show. The curatorial intent is to provide a short glimpse of the overall visual space shaped by 75 years of Independence by various generations of artists in India." It is a holistic show that boasts both masters and emerging talent. While many veteran modernists and artists from the 1950s to the 1990s have been included, so have works by relatively unseen award-winning artists of this millennial who present important pointers to the times and ideas ahead.
"We have also included indigenous art. We have included textiles. We have tried to create harmony between the different faculties of art. In India, we have always had a tradition of holistic. Right from cinema to weaving to visual art—all have been brought together under one roof," she explains further. Works by over 50 leading artists across generations, from 1947 onwards, have been featured in this exhibition. The exhibition also boasts seminal works by relatively less exhibited artists, unknown weavers and daring visual renderings by subaltern and indigenous masters.
Given the artistic talent of filmmaker Satyajit Ray, there is a slice from his landmark film, Pather Panchali, which is also a homage to the filmmaker in his centennial year. The overall experience is meant to be holistic and a celebration of the creative diversity and freedom of this vast country. Ray was greatly inspired by the neorealist ideas of Italian filmmaking. It was all about shooting outdoors in the midst of real life with relatively unknown actors coming from ordinary life. He taught us to look differently at the cinema and his cinematic experiments impacted the artistic and cultural nuances of India hugely.
Why Ray? "Well, 1955 has been one of the crucial years in the life of post-Independence India. Pather Panchali created a huge cultural upheaval in the art world. There are of course vignettes from his film and there is also a rare painting that MF Hussain inspired by the film. We have also brought in the veteran Bikash Bhattacharjee as well in this section, as he was equally inspired by the neorealist ideas of Bicycle Thieves, a film by the Italian director, Vittorio De Sica. Like Ray, Bhattacharjee's works also talk about the ordinary and hapless in their real-life surroundings, occasionally bordering on magic realism."
Putting this vast collection together required years of meticulous research. For example, there is a Bastar artist, a Patachitrakar whose metaphorical work is very topical even today, quite a few private collections have been brought together on this platform, award-winning and young emerging artists. "It's a kind of an extravaganza," says Sarkar, adding, "Creating the narrative is what holds priority. Every viewer is given a chance to interpret the works exhibited in a new way. The context is ever-changing and that is what makes each work relevant to the times."
Elaborating on some of the works that hold sway over the entire exhibition, Sarkar says, "My first vote goes to Bikash Bhattacharjee and his masterful work. Also, Satyajit Ray's excerpts will be fascinating for the viewers to see. There are some rare 1961 small drawings of Ram Kumar. Then there is a little-known but extraordinary artist, Rajendra Dhawan, whose art needs to be celebrated more. There are some rare miniatures by him. We have a fantastic work by a young artist called Kingshuk Sarkar. It's a stunning work created especially for this exhibition."
While celebrating masters, CIMA through its exhibition also encourages young and emerging talent. "We have to look at the future. You can't always live in the past. Of course, masters have great work and need to be celebrated, but space needs to be created for young artists. Also, on most platforms and through the ages we realised that it is the major cities such as Kolkata, Mumbai, Delhi, and Baroda that have become the centre stage of finding and endorsing new talent. To counter this, our CIMA Awards programme has brought forth all the talent from our small towns such as Nashik, Ghaziabad, and back of beyond places in Kashmir or Kerala or Odisha. We are choosing excellence that represents the far-flung corners of the country with the help of our jury of leading artists. This, we believe, will contribute hugely to the scene of developing art in India," says Sarkar.
The CIMA exhibition shows how Indian art has imbibed the essence of various cultures and civilisations and created a fascinating visual vocabulary which is uniquely it's own. This is noticed across creative genres, crafts, weaving, cinema and, of course, the visual arts. Colours of Freedom is all about celebrating that wonderful amalgamation of ideas, forms, iconography and colours, resulting in a unique and magical experience.