Why Robert Vadra is bad optics for Bharat Jodo Yatra and Congress
Robert Vadra has been in the news for all the wrong reasons. He is facing probes in connection with some of his properties in London, and his land deals in Bikaner, Gurugram and elsewhere in the country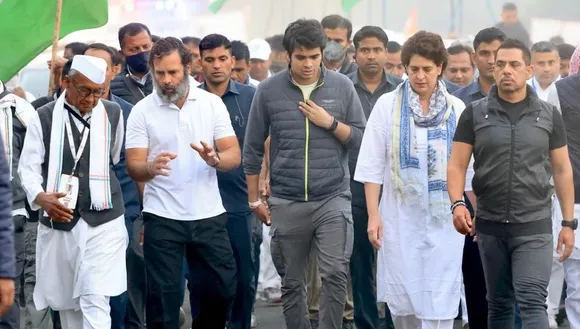 (L-R) Digvijay Singh, Rahul Gandhi, Rehan, Priyanka Gandhi Vadra and Robert and Vadra during Bharat Jodo Yatra on Friday
New Delhi: Pictures of former Congress president Rahul Gandhi with his sister Priyanka Gandhi Vadra, her husband Robert Vadra and their son Rehan during the Bharat Jodo Yatra in Madhya Pradesh went viral on social media on Thursday. It continued on Friday.
Some netizens reacted sharply to the pictures given that Robert Vadra has been on many occasions trolled on social media. 
Robert Vadra has been in the news for all the wrong reasons. He is facing probes in connection with some of his properties in London, and his land deals in Bikaner, Gurugram and elsewhere in the country. 
Last year, Income Tax (I-T) department officials had questioned him in connection with some cases related to benami properties. It is said that the money given to arms dealer Sanjay Bhandari's firm Santech International was a kickback for a deal related to a petro-chemical complex that the ONGC had decided to build as a special economic zone (SEZ) in 2007 during the Congress-led UPA government's first tenure.  
For this, it had commissioned Samsung Engineering to build a part of the project. The investigating agencies are probing whether the kickback amount was later used to buy benami properties for Robert Vadra. It is also suspected that the UK property, located at 12, Bryanston Square, London, is Robert Vadra's benami property. 
In 2020, Robert Vadra was also questioned by the Enforcement Directorate (ED) about his association with Sanjay Bhandari and the London property. During the questioning, Vadra refuted all allegations. 
Then there is the Bikaner land deal case against him.  
The alleged land grab case of 2009-11 is that around 1,400 acres were acquired by the Rajasthan government and sold to seven companies, including Skylight Hospitality (SLH) - a firm connected to Robert Vadra. As many as 18 FIRs were registered by Gajner and Kolayat police station in Bikaner between August and September 2014. 
It is alleged that blank allotment letters with stamps were stolen by two accused from the colonisation department in Bikaner to prepare forged and fabricated letters in the name of the alleged displaced people. 
On the basis of these forged allotment letters, 1,422 bigha land was recorded in revenue record (jamabandis) in the name of these fictitious allottees without due verification from the colonisation department. About 1,372 bigha of impugned land was allegedly sold to various individuals and companies in this manner. 
The Skylight Hospitality firm allegedly purchased a part of the land. Agencies are probing that Robert Vadra's firm had purchased 69.55 hectares for Rs 72 lakh and then sold the land to Allegeny Finlease for Rs 5.15 crore, earning a profit of Rs 4.43 crore. The Rajasthan Police had filed a forgery case in this regard. 
An FIR was lodged by the Gurugram Police against Robert Vadra, former Haryana chief minister Bhupinder Singh Hooda, DLF and Onkareshwar Properties alleging irregularities in land deals. 
According to the FIR, Vadra's Skylight Hospitality bought 3.5 acre in Gurgaon's Sector 83 from Onkareshwar Properties for Rs 7.50 crore in 2008 and the same was sold to DLF at Rs 58 crore. The then Haryana government, headed by Hooda, allotted 350 acres to DLF at Wazirabad in Gurgaon as part of the alleged quid-pro-quo. Robert Vadra is also under scanner of investigating agencies in multiple land deal cases, including one at Manesar in Haryana. 
A section of the people firmly believe that Robert Vadra was one of the biggest symbols of corruption in India and the Congress had suffered collateral damage due to him in the 2014 Lok Sabha elections and all the state polls after that.  
During the anti-graft agitation in 2011, Anna Hazare and Arvind Kejriwal had attacked Robert Vadra and the Congress over corruption allegations. The Bharatiya Janata Party (BJP), especially Prime Minister Narendra Modi, had often taken a 'damaad' (son-in-law) jibe at the Congress over Robert Vadra's controversial land deals. As a result, many people in India despise him.  
In March this year, Robert Vadra expressed his desire to contest the 2024 Lok Sabha elections from Moradabad in Uttar Pradesh. "Everyone is expecting that I choose Moradabad or any other city in Uttar Pradesh for my entry to Parliament. As people have high hopes from me, I will see if I can participate in the 2024 general elections or not. Everyday, I am in service to people," he had said. 
"Election or no elections, I go to temples, mosques, churches or even gurdwaras across the country. When I am working hard for so long, I think I will be able to make a difference in politics. I would like that the lives of people change for better. When Priyanka comes home, we talk politics, and discuss how to mitigate the sufferings of people in the villages," added Robert Vadra. 
The statement had evoked sharp responses from the people and made many Congress leaders squirm due to the graft charges against him.  
In such a scenario, his joining the Bharat Jodo Yatra is certainly bad optics for Rahul Gandhi and the Congress party.