Is Rahul Gandhi pushing Uddhav Thackeray to the wall with his consistent attack on Savarkar?
Thackeray faction of Shiv Sena feels that such remarks and that too in Maharashtra by an ally give the much-needed ammunition to the opponents to target Uddhav Thackeray and his new brand of politics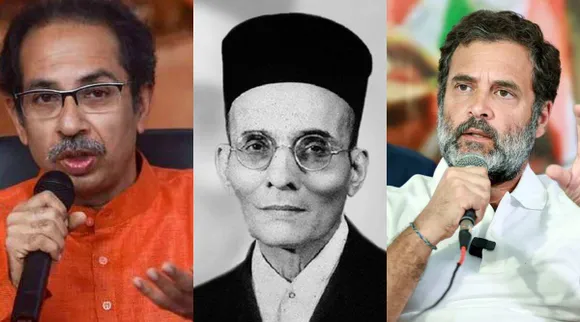 Uddhav Thackeray, V D Savarkar and Rahul Gandhi
New Delhi: The Shiv Sena, led by former Maharashtra chief minister Uddhav Thackeray, has threatened to quit the Maha Vikas Aghadi (MVA) alliance over Congress leader Rahul Gandhi's recent remark against Hindutva ideologue Vinayak Damodar Savarkar.
The former Congress president, during a press conference at Wadegaon in Akola district on Thursday (November 17), alleged that Savarkar had helped the British and wrote a mercy petition to them out of fear.  
He also produced a letter that Savarkar had written to the British during his jail term at the Cellular jail at Andaman seeking clemency and saying that he would remain their obedient servant.
This prompted Shiv Sena leaders, including Sanjay Raut, to indicate that such remarks have the potential to cause strife and a split in the MVA.  
"Coming to Maharashtra and saying things about Veer Savarkar won't be accepted. Bharat Jodo Yatra is against dictatorship and issues like unemployment, inflation and Congress is getting support. At this point of time, there was no need to bring up the issue of Savarkar. Because of this, there is a possibility of a rift in the MVA," he said.
Why is Shiv Sena upset now?
This is perhaps not the first time that Rahul Gandhi has attacked Savarkar. Two days earlier, he had made similar remarks.
In the past too, he had consistently attacked Savarkar even when the Shiv Sena was ruling Maharashtra in alliance with the Congress and the Nationalist Congress Party (NCP) from 2019 to 2022.
A few days ago, Rahul Gandhi had accused the Rashtriya Swayamsevak Sangh (RSS) and Savarkar of helping the British.
"Savarkar used to get a stipend from the British for helping them and these are historical facts that even the BJP cannot hide," he had said, addressing a rally in Karnataka on October 8 during his nationwide Bharat Jodo Yatra. The Shiv Sena had then chosen to remain silent on the issue.  
It seems Rahul Gandhi's attacks on Savarkar in his home state Maharashtra was a cause of concern for the Uddhav Thackeray faction. Its leaders feel that such remarks and that too in Maharashtra by an ally give the much-needed ammunition to the opponents to target Uddhav Thackeray and his new brand of politics.
This might also weaken Uddhav Thackeray's stand on Hindutva politics and hurt it politically and electorally. His faction also fears that If Uddhav Tahckeray doesn't speak up now, his detractors will try to create further wedge in the party and justify Eknath Shinde's rebellion against him.
The Shiv Sena considers Savarkar a reverential figure as an icon of Hindutva ideology and so do a lot of Maharashtrians. Last year, NCP chief Sharad Pawar had stated that it was difficult for the people of Maharashtra to oppose Savarkar.
Obviously, Rahul Gandhi's remarks will put Uddhav Thackeray and his faction in a spot, especially ahead of the critical Brihanmumbai Municipal Corporation (BMC) elections, and even force the Shiv Sena to sever its ties with the Congress.
Congress goes for damage control
Rahul Gandhi did realise that he had put his ally in an uncomfortable position and, therefore, desisted from repeating his attack on Savarkar during a rally at Shegaon in Buldhana district on Friday.
The threat forced the Congress to reach out to the Shiv Sena and do some damage control. Congress general secretary in-charge of media and communications Jairam Ramesh spoke to Raut to clear the air. Both agreed to disagree on Savarkar and later Ramesh insisted that the controversy will not weaken the MVA.
"I had a long discussion with Mr Raut. I told him that Mr Gandhi had spoken his mind and the same was the case with your leadership. It has nothing to do with the MVA coalition. Mr Gandhi did not target Savarkar but only highlighted a historical fact. I asked Mr Raut whether it will weaken and destabilise the MVA and he replied negatively," Ramesh said.
For now, the controversy might have been buried but one more statement from Rahul Gandhi is bound to have far reaching consequences on Maharashtra politics.