News channel or fake news peddler - What's wrong with TV9 Bharatvarsh?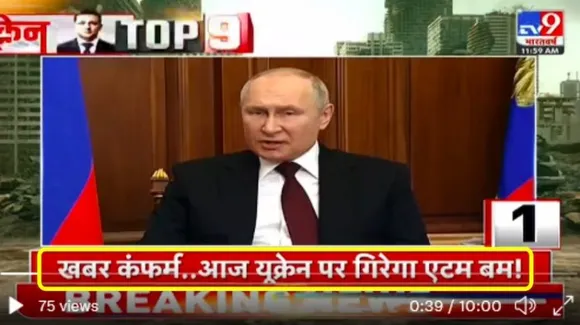 War may be one of the most horrible things for humanity, but there are always some who benefit greatly from it.
A few Indian news channels are perfect example of this. 
Although television ratings returned for the entire news genre, only a select few channels have resorted to onscreen drama and fake news for TRPs.
While a video from India News channel went viral a few days back where the anchors were seen crossing each other in studio to show unwanted aggression, Republic Bharat's reporter became a laughing stock for her theatrics while reporting from Ukraine. 
There is more to it that makes these theatrics look smaller. TV9 Bharatvarsh has joined them in serving viewers with war hysteria through fake news and war fantasy.
The fake news aired by them related to developments as serious as the Russia-Ukraine war and the fall of Imran Khan-led Pakistan government make for a valid case for them to be seriously reprimanded by the Centre. 
Sample the irresponsibly put out video from TV9 Bharatvarsh, which was consistently running them throughout Tuesday.
In a tweet and YouTube video which was part of the live telecast of the television channel, TV9 confirmed the date of nuclear attack on Ukraine as April 19. The anchor claimed that the information was from an intelligence agency from United Kingdom.
NewsDrum.in fact-checked the claims and found that UK's Ministry of Defence publishes a daily brief of its intel assessment and no such reference was made by them.
The screenshot taken at the 39th second of the video above reads "Confirmed news: there will be a nuclear attack on Ukraine today". One just needs to look at the top news events for Tuesday to come to the conclusion that the news was indeed fake.
At 1:00 min in its Twitter video, TV9 showed the visuals of a nuclear mushroom cloud without any attribution to a file image. This was misrepresentation of facts because no nuclear incident took place anywhere in the world at the time.
The screenshots above are from the video (" target="_blank" rel="noopener">) which was later deleted for some unknown reason.
However, this claim was debunked as the Twitter account of the UK's Ministry of Defence posts a brief of its intel assessment every day. No such reference was found on April 18 Twitter post as it was claimed by TV9 Bharatvarsh.
Here is the latest tweet from the Defence Ministry of UK: https://twitter.com/DefenceHQ/status/1515930498106810370
Now, let us check a few coverages from the recent past.
TV9 broadcast news about the preparations to induct Japan in strategy group AUKUS. It is a trilateral security pact between Australia, the UK, and the US for the Indo-Pacific region. 
This fake news was initially reported by Japanese media Sankei, which was later clarified in an article published by Reuters.
"Chief Cabinet Secretary Hirokazu Matsuno said at a press conference on the morning of the 13th that Japan had "not been consulted" for participation in the security framework "AUKUS" of the United States, the United Kingdom and Australia," Reuters reported.
The Week also debunked the claim.
Related to fake news on Pakistan, the channel also broadcast news claiming "Imran Khan is in house arrest", mentioning Samaa TV as source.
There was no such information in public domain and Imran Khan was active on Twitter, announcing a 'jalsa'.
In an analysis, NewsDrum.in found that this statement was found incorrect. 
Check out the tweets from Imran khan Twitter handle | Date: 10/04/2022 and 11/04/2022
Reasons for debunk
1. There is no such confirmation from any of the Pakistani officials about Imran Khan's house arrest. None of the Tier 1 media channel have aired any such story till now.
2. TV9 broadcast this news on April 10, but Imran khan was active on Twitter on April 10 and 11. He also confirmed in one of the tweets about his Jalsa in Peshawar that is scheduled to happen on April 13th.
3. A correspondent doing freelancing for a Pakistani Media house has confirmed that Imran Khan has not been arrested.
In the beginning of the Russia-Ukraine war, TV9 Bharatvarsh broadcast that two American bomber planes flew to help Ukraine.
Upon performing a fact check, NewsDrum.in found that US President Joe Biden never made any statement related to direct involvement in the war.
The clip posted on YouTube in February (Posted date could not be verified because clip does not exist on TV9 YouTube channel anymore.)
The fake news was soon debunked by Politico.
The full story can be accessed here: ​​https://www.politico.com/news/2022/02/23/biden-troops-russia-ukraine-00011049
Conclusion: In the name of news, the two channels are circulating misleading and highly dramatised content. This isn't only harming India's foreign interests  but also doing a great disservice to journalism.
Like other critical and sensitive events, the I&B Ministry must issue guidelines for coverage of issues as serious as a global war that may also impact India's international relations. The government must also ensure that all media organisations follow those guidelines. The I&B Ministry recently set a precedence by banning several YouTube news channels which were spreading fake news. Shouldn't the same action be extended for news channels?