By calling Pilot a Gaddar, Ashok Gehlot makes his intentions clear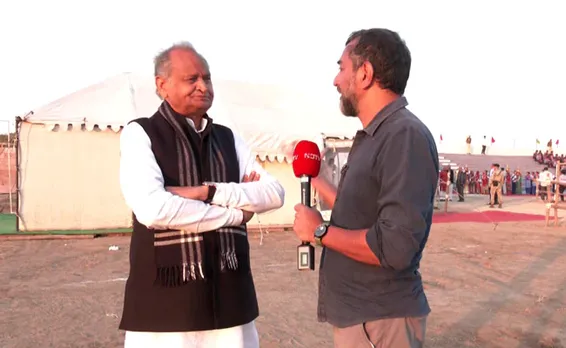 Rajasthan chief minister Ashok Gehlot (Courtesy- NDTV)
New Delhi: Rajasthan chief minister Ashok Gehlot's clear warning to the Congress leadership that he and his loyal legislators will not accept "traitor" Sachin Pilot as his successor indicates that the woes of the grand old party in the desert state are far from over.
The simmering feud between Gehlot and Pilot has worried the Congress ahead of the next year's assembly elections in Rajasthan.
"A gaddar (traitor) cannot be the chief minister. The Congress high command cannot make Sachin Pilot the chief minister, a man who doesn't have the support of 10 legislators. He revolted and betrayed the party. He is a traitor," Gehlot told NDTV.
The timing of the interview was interesting. It was aired on a day when Pilot was seen with Congress leaders Rahul Gandhi and Priyanka Gandhi Vadra during the Bharat Jodo Yatra in Madhya Pradesh.
Gehlot minced no words in stating that he would under no circumstances step down to pave the way for Pilot, whom he alleged to have colluded with the Bharatiya Janata Party (BJP) to bring down his government in July 2020.
After his tough talk and the repeated traitor dig at Pilot, Gehlot has made it abundantly clear that he won't budge from his stand.
Hence, any move to dethrone him and install Pilot as the chief minister will have far-reaching consequences for the Congress in Rajasthan.
The remarks have also put new Congress president Mallikarjun Kharge in a spot. If Kharge hands over the reins of Rajasthan to Pilot, Gehlot and his loyalists would certainly defy him and create a situation that might cause a split in the party.
It will send a message that Kharge had failed to tackle the Rajasthan crisis, which was his first real test as the Congress chief.
Going by his interview to NDTV, Gehlot would agree to step down only if one of his loyalists was considered and provided the move ensured a repeat term for the Congress in the 2023 assembly elections in the state.
That seems to be a tough task given that Rajasthan is a cyclic state with no incumbent government having retained power for decades now.
Indeed, interesting times are ahead in Rajasthan and the Congress party.