Are Mamata and Centre bitter rivals or frenemies as Centre sends new governor?
The inside story of the phone call between Mamata Banerjee and Amit Shah over the appointment of C V Ananda Bose as new West Bengal Governor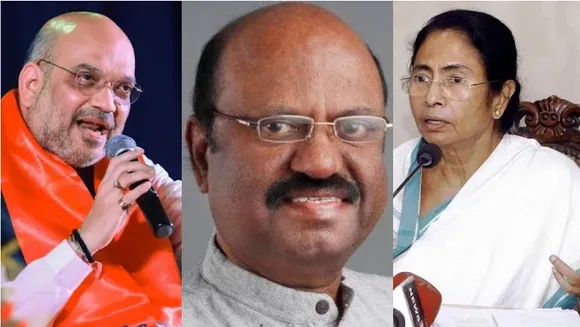 (L-R) Amit Shah, Ananda Bose and Mamata Banerjee
New Delhi: The appointment of new governors in Opposition-ruled states is always a matter of much recrimination. So there was no surprise when West Bengal Chief Minister Mamata Banerjee was not too happy when she was told on the phone by Union Home Minister Amit Shah that a former bureaucrat C V Ananda Bose is the new governor of the state.
In a mild protest tone, Mamata apparently told Shah that the Centre was always following the practice of deciding on the name of the governor and then informing her as a routine matter. She should have been consulted over a list of names. However, Shah conveyed to Mamata that the consultation over appointment between the Centre and the States did not mean "concurrence or consent of the concerned state government."
Before signing off, Shah remarked, "You will be happier working with Bose than with La Ganesan (the acting governor of West Bengal after Jagdeep Dhankar was elevated as Vice President of India). Just wait and see."
Shah's last words were not without significance. Mamata did not make public her protest, which was considerably milder in tone than on previous occasions.
A new governor meant she had to rework her ties with the Raj Bhavan. Mamata had hit off very well with Ganesan, who is a full-fledged governor of Manipur with a temporary additional charge of Bengal. In the last three months, they had bonded so well that Mamata had him over at her Kalighat home for Kali Puja (on the day of Diwali).
So pleased was Ganesan by Mamata's hospitality and her spartan lifestyle, he invited her to his brother's 80th birthday celebration in Chennai earlier this month which she attended.
As Bengal BJP leaders went into a tizzy over the bonhomie between the CM and Ganesan, some of them decided to alert the central party leadership about the sea change in Kolkata Raj Bhavan.
Was Ganesan being friendly at the instance of Amit Shah or he was acting on his own? Over the past three months, the common sight of BJP leaders marching towards the Raj Bhavan to take up their grievances against Mamata's dispensation with the governor had become less frequent. Earlier, former governor Jagdeep Dhankhar would grant quick appointments and acknowledge their demands openly.
On November 14, many BJP MLAs marched to the Raj Bhavan, seeking action against Bengal Minister Akhil Giri who had allegedly made disparaging remarks against President Droupadi Murmu.
But Ganesan was not present at his official residence. An angry Leader of the Opposition Suvendu Adhikari, who had led the march, said he had not come to sip tea with officials and left behind a memorandum at the Raj Bhavan, signed by 36 party MLAs demanding action against Giri.
However, on November 17 evening,  a communique from the Rashtrapati Bhavan announced that C.V. Ananda Bose has been appointed as the new governor of West Bengal.
Suddenly, everything came full circle or back to square one-- till the BJP leaders realised that the Centre had chosen a soft-spoken former bureaucrat who joined the BJP in 2019. Bose is close to Prime Minister Narendra Modi and could not be just a routine selection.
As everyone began to find out who Bose was, the new appointee came on the media, announcing that he would act as a "rainbow bridge" between the Centre and the state by "sorting out" issues and being a "conduit for…cooperation." As he made right politically correct noises, Bose reiterated that "I do expect cordial relations with the elected government. The Governor's role is as the head of the state. I would like to extend all co-operation to function within the parameters of the Constitution."
As 71-year-old Bose's appointment came in the backdrop of governors R N Ravi and Arif Mohammed Khan facing tension with the Tamil Nadu and Kerala governments, he said, "All differences of opinion need not be seen as controversies. Protests and divided opinion need to be seen not as a weakness but as (the) strength of democracy."
Bose recalled his emotional relationship with the state. He expressed his delight at getting a chance to serve the people of West Bengal, highlighting that his first job was in Kolkata. 
"I deem it a great opportunity to come to a great state like Bengal. I have some emotional relationship with Bengal. My career as a bank officer started in Bengal. I am familiar with localities like Rash Behari Avenue. As you notice my name itself has a Bengali touch- Ananda Bose. After coming to Bengal, I learnt Bengali- at least one new word per day," he said.
Bose is a Malayali, who served in the Kerala cadre of the Indian Administrative Service (IAS) (1977 batch) and held the rank of secretary to the government of India, chief secretary, and university vice-chancellor before he retired in 2011. 
He has worked as district collector, principal secretary and additional chief secretary in various ministries such as education, forest and environment, labour, and general administration. Bose was secretary to former Kerala Chief Minister K Karunakaran. 
In 2019, Bose joined the BJP. Bose had headed a Supreme Court committee set up to handle the Sree Padmanabhaswamy Temple treasure discovery. He had been the advisor to Meghalaya's Governor too in 2018. During Covid, Bose sent a report to Modi on tackling the issue of hunger among the poor. Later, Modi announced a free ration for 80 crore families.
Is the Centre slowing down on the probe against Mamata's people?
Many Bengal BJP leaders wonder whether there is slow progress in cases against Mamata's nephew Abhishek Banerjee and other Trinamool Congress leaders. Does it have anything to do with the central BJP's strategy in the state ahead of the 2024 elections? They suspect that the old aggressive approach is missing.
Have Shah and other BJP managers realised after the 2021 assembly polls in West Bengal that an aggressive approach against Mamata won't work?
Mamata too is not in her old form. She has stopped attacking Modi at a personal level. Her barbs are limited to pot shots at the BJP while she works phones to get blocked Central funds for her state.
A day ago, Calcutta High Court expressed unhappiness at the slow pace of the probe into different cases in West  Bengal. It rejigged the special CBI team investigating key cases including the infamous teacher recruitment scam, in which Mamata's close aide, former minister Partha Chatterjee was arrested and cash amounting to more than Rs 50 crores seized from different locations.
It added four officers and dropped two others from the CBI team, saying it found the investigation was moving very slowly. A deputy superintendent and an inspector were dropped from the team. Another deputy superintendent and three inspectors were included in it. The court also ordered that CBI's deputy inspector general, Akhilesh Singh be brought back to head the probe.
In June, a single bench of Justice Abhijit Gangopadhyay ordered the probe into the alleged irregularities in the recruitment of teachers. In its order on Wednesday, the High Court said: "...CBI is moving very slowly for reasons best known to it but not understood by this court."
The CBI and Enforcement Directorate (ED) are conducting parallel investigations into the alleged scam involving the recruitment of thousands of teachers and non-teaching staff in state-run schools.